What have we been learning?
What is Scrimbling?
Everyday we encourage our children to strengthen their fine motor skills through fun and engaging 'Scrimbling' activities such as hammer boards, using tweezers or pegs. Nursery is a crucial age to develop these fine motor muscles to prepare them for tasks such as writing and zipping up coats or buttons. This can be done through writing and cutting but many children do not choose to access these areas, often resulting in variation in fine motor development among this age group. Fine motor skills require patience, which is in shorter supply, so Scrimbling is set up to be exciting and engaging to all children! Why not try additional fine motor skills at home too!
Here are some fun fine motor ideas you can do at home...
WC 24.6.19
Our current topic is 'What makes a Superhero?' We have been focusing on the story 'Supertato' and even had a visit from the Evil Pea who trapped some of our veggies! The children decided to write a letter asking for Supertatoes help to which he arrived the next day to trap those Evil Peas!
W/C 25.3.19
To end our current topic 'What is danger?' - We had a very special visit from the Police and Firefighters. We were able to ask lots of questions and learned a lot about their jobs. A few career changes have now emerged from the children. We were able to try on their uniforms and explore their vehicles!
18.3.19 Easter Bonnet Parade
We have been learning the songs for our Easter Bonnet Parade which will be taking place on 16th and 18th April 2019. We looked for the best Easter songs together as a whole unit and then the children voted for the ones that they liked the most. The songs are below if your child would like to practice them :)
1.2.19
This was Number Day on the 1st February to raise money for the NSPCC. We had to dress up wearing a number and had a go at lots of number activities and used our 'Birchy Brain' to help us with some maths challenges.
WC 28.2.19
This week we had a visit from the Bear. We left out some food and milk and he ate it all - leaving a big mess in the process. He even had a wash in our water tray - leaving it quite dirty.
WC 21.1.19
This week we have been learning more about the 'woods' we had a go at bark rubbing on the trees and even went on a Gruffalo hunt to see if the Gruffalo had left us any clues!
WC 14.1.19
Our current topic is 'Who lives in the woods?' We discussed the Gruffalo story and all the different animals in the story. We then decided to make our very own version of the Gruffalo by manipulating clay and adding hair, arms etc.
WC 7.1.19
In maths we have been looking at comparing size. We compared the children to find who was the tallest and who was the smallest. We then measured our feet and hand span to see if the tallest person had the biggest of both. This wasn't the case!
We are busy practicing for our Christmas Nativity called 'Nursery Rhyme Nativity'. Lots of people have asked for the songs to practice at home. They are below...
Special News
Jesus Was Born In A Stable
Mary, Mary, Mother of Jesus
Twinkle Twinkle Little Star
This little light of mine
He's got the whole world in his hans
One more step along the world I go.
WC: 1.10.18
Something very exciting has happened this week!! Somebody in Dolphin class has received the first ever 'Birchy Brain' sticker. Birchy has been introduced to help the children to push themselves that little bit harder and grow their mind. We have been taking on challenges to push our learning that little bit further. This child was using a shuffle board to find all the different ways we can make the number 2 which is enabling him to have a fantastic understanding of number. He then explained to the other children how he was using the shuffle board.
Harvest Festival 2018
If your child would like to practice the Harvest Festival songs they are here...
Oats and Beans:
Cauliflowers fluffy:
There is no backing track for cauliflowers fluffy so here are the lyrics-
Cauliflowers fluffy is just the backing track so here are the lyrics -
Cauliflowers fluffy and cabbages green,
Strawberries sweeter than any I've seen,
Beetroot purple and onions white,
All grow steadily day and night,
The apples are ripe and the plums are red,
The broad beans are sleeping in their blankety beds.
Dingle, dangle scarecrow:
WC 1.10.18
Take a look at what we have been up to outdoors this week!
WC 1.10.18
A snapshot into our 'scrimbling' activities.
WC 17.9.18
The children got very busy on the carpet this week. They created their very own tea party using the play dough and available resources, whilst some other children decided to strengthen their fine motor skills by having a go at our hammering board.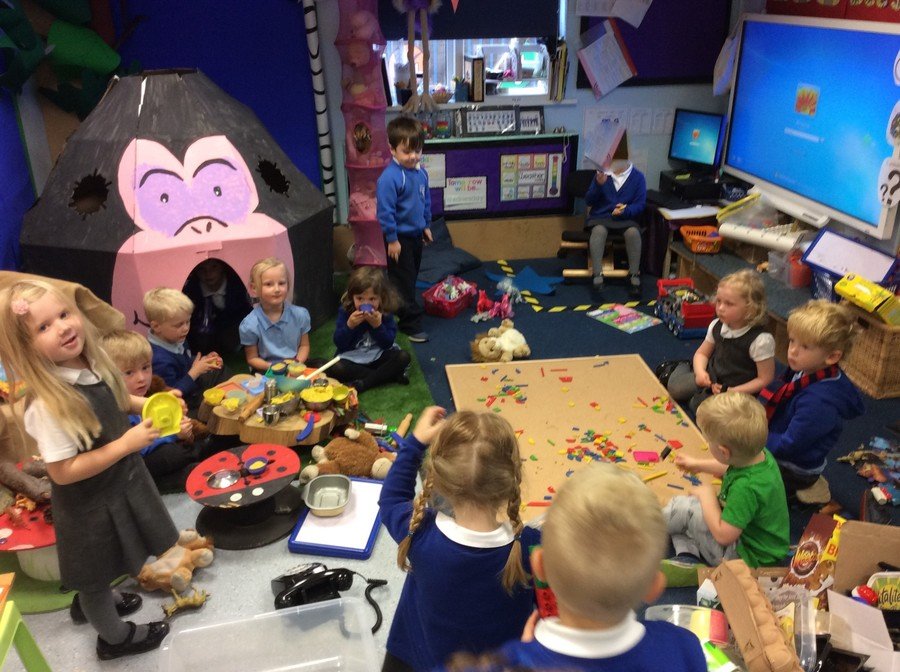 WC 17.9.18
We have a new discovery area in our setting this year. The children love exploring the technical toys, magnets, colour pebbles and other items!
WC 10.9.18
The children decided to build a bridge or two over the 'swamp' they created. They extended this further by pretending there was an ogre hiding around somewhere!