Clubs Available Autumn 1 - 2019
F2
Grub Club (Miss Storey) Thursday 3:15pm - 4:15pm
KS1
Gardening Club (Miss Ellis) Monday 3:15pm - 4:15pm
Sketch club (Ms Bratby) Thursday 3:15pm - 4:15pm
Total Dance (External Provider) Ribbon Dance 3:15 - 4:15pm
Glee Club - Year 2 - (Miss Dolby) 3:15pm - 4:15pm
KS2
Year 5/6 Performing Arts (Miss Todhunter) Monday 3:15pm - 4:15pm
Year 5/6 Soccer Club (Mr Turner) Tuesday 3:15pm - 4:15pm
All of KS2 Sports Club (Mr Costello) 3:20pm - 4:30pm
Year 3/4 Wild Club (Miss Bentley) 3:15pm - 4:15pm
Glee Club
On Saturday 9th November 2019, Glee Club performed at the Funzi Bodo charity event. There was a clothing collection and lots of other activities on the day. The event made £2800 for the charity!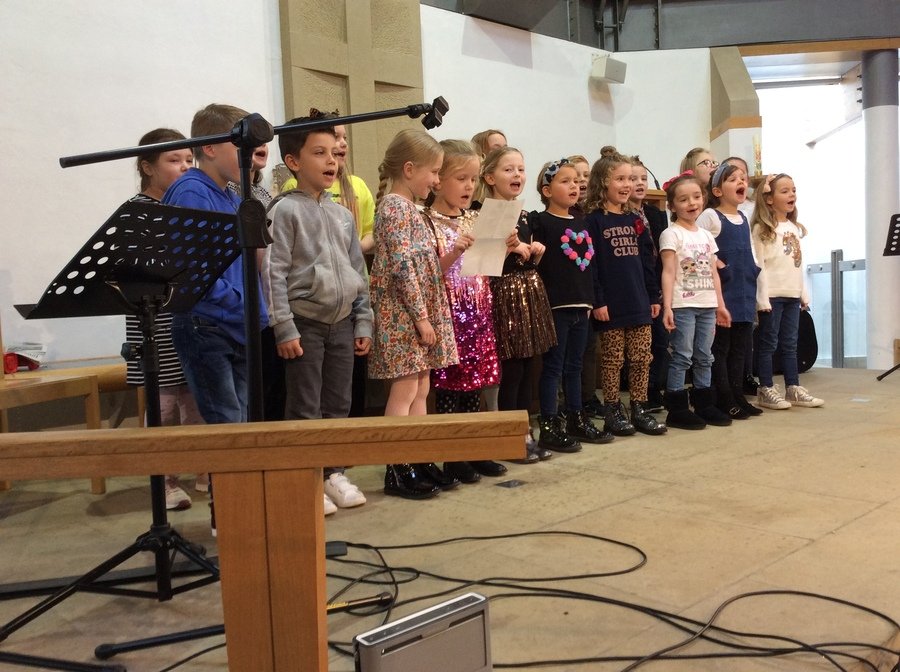 Gardening Club
What a surprise on our first day back!
Miss Ellis' Gardening club discovered this HUGE courgette they planted just before the school holidays! Year 1 children then used the tasty vegetable to make a courgette, onion and breadcrumb treat. Sensational smells filled school and everybody loved eating our very own produce!
Glee Club
Here are a few pictures from Young Voices 2019. We had a fabulous time and the children were absolute superstars.
The Big Sing!
Today we joined in the big sing at Leeds Town Hall. We learnt some new songs and sang along with lots of other schools in Leeds.
Dodgeball Tournament
9 schools and 12 teams took part in the dodgeball tournament hosted by Birchfield. Well done to Gildersome Primary for finally knocking Birchfield off their perch after 9 years!
Chicken Fried Rice Recipe
Ingredients:
3 diced chicken breasts
3 spring onions sliced
2 carrots diced
1 crushed clove of garlic
Splash of oil
2 cups of cooked white long grain rice
3 tbsp soy sauce
3 eggs
1 small cup of frozen peas
Method
Heat oil in a wok and cook the chicken through. Remove from pan.
Add spring onion, garlic, carrots and peas and stir fry.
Whisk eggs and add to wok. Stir in to form what resembles scrambled egg.
Put the chicken back into the vegetables and add rice.
Mix thoroughly, add soy sauce and mix again.
Enjoy.
Vegetable Stir Fry
Ingredients:
2 tbsp soy sauce
1 tbsp veg oil
1 tsp sesame oil
Thumb-sized piece of fresh root ginger , peeled and grated
Various stir fry vegetables.
Pack straight-to-wok noodles
Method:
Put the noodles in a bowl and pour boiling water over them. Stir gently to separate, then drain thoroughly.
Stir fry ginger and harder pieces of veg for 2 mins.
Add noodles and rest of veg, stir fry over high heat until just cooked.
Add soy and sesame oil. Cook for a couple of minutes, serve.
As requested, here are the tasty recipes that we have followed in our Grub Club. Happy cooking!!!!
The recipe for mac and cheese can be found at www.allrecipes.co.uk
We had a great first LEGO club, the children really enjoyed it. The theme this week was 'Space' the children had time to get creative and could make anything linked to the space theme. Some children decided to work in groups and some children worked individually. They created aliens, spaceships, rockets, the Sun and lots of the different planets. Here are some photographs of their completed models.
GRUB CLUB
Starting soon for Year 1
Thursdays 3.20pm-4.15pm
Keep an eye out for the letters.
'Grub Club' is an after school club which encourages children to become confident in using kitchen equipment to prepare simple snacks and meals. It develops children's understanding of a range of foods and helps to encourage the children to make healthy choices and have a balanced diet.
Here are some pictures of the children enjoying preparing a range of foods. This half term we have made our own pasta sauce, pancakes, stirfry, spicy beanburgers and crushed fruit ice lollies. The ice lollies were a real hit especially with the lovely weather we have had!